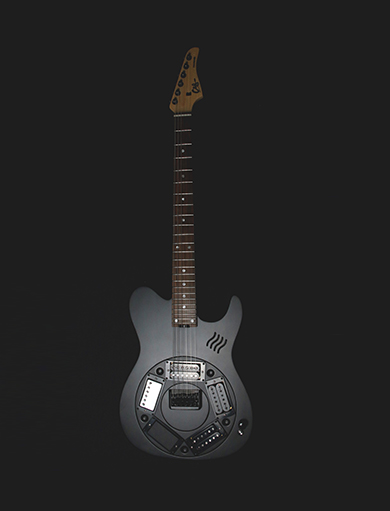 Heilongjiang electric guitar body structure, here mainly describes the joint mode of the electric guitar body. The body of the electric guitar is composed of one or more pieces of wood joined together by special glue. The glue used to make the special glue for the instrument is also used for all other structural parts of the electric guitar that need to be glued together. The glue used in the traditional process is skin glue, which is a sticky substance made from animal skin. From the perspective of musical instrument production, the advantages of leather glue lie in its high bonding strength, and it is not easy to penetrate into wood, without affecting the acoustic performance of wood. Moreover, as leather glue will change back to a fluid state after heating, when the musical instrument is damaged, it can be simply separated by hot air heating, so as to replace or repair the musical instrument. However, as leather glue needs to be boiled before gluing, and comes from animals, modern mass production electric guitars are bonded by industrial synthetic glue specially used for Musical Instruments.
Generally speaking, the spliced body cannot guarantee the consistency of the acoustic properties of each wood part, and the spliced part will cause vibration loss. Therefore, on the premise of the same grade of wood species, the less spliced wood is, the more stable the timbre and sustained sound of electric guitar will be. Common electric guitars are basically made up of a large and a small two pieces of wood, large pieces of wood with holes and grooves for the neck and bridge. Cheaper electric guitars use more wood splices, and guitars made from a single piece of wood are rare and almost entirely custom made.
The body structure of electric guitar involves hollowing and opening. Electric guitar body has solid, half hollow, hollow and other different structures. Solid state electric guitars, invented and common by Gibson, are pieces of solid wood. The semi-hollow electric guitar body is hollow in different degrees and in different ways. The main purpose of this semi-hollow structure is to reduce the weight of the guitar by reducing the wood, improve the experience of the guitarist and reduce the burden. With the development of technology, some semi-hollow structures also provide additional acoustic functions, such as extended extension [11]. However, in any case, the hollow part of the electric guitar body of the semi-hollow structure will not be exposed and will not directly affect the sound. Hollow electric guitars are similar in shape to electric guitars. They are also equipped with pickups but have a complete sound box and sound holes for sound.