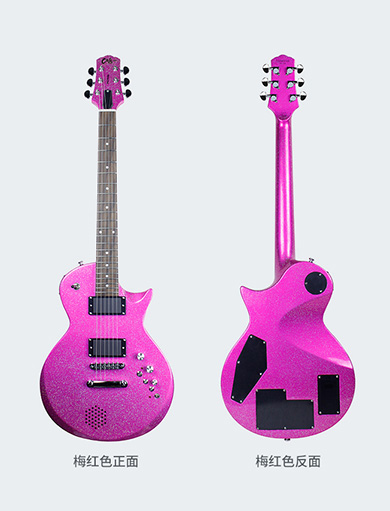 Heilongjiang electric guitar playing skills development to today, has formed a relatively scientific and huge system, such as: common push string, legato (string, string, string), tremolos, astatic strings, sound, tone, dial the slice of harmonic and crank embouchure, string (strings and hands point is divided into the right point, right point in fact sometimes also need to left click strings are cooperate; The two-handed chording method is borrowed from the piano playing method. Most of the time, one hand points out the accompaniment chord notes and the other hand points out the melody line.) Besides, skills developed from various styles of music, such as chicken playing in country style guitar, double-tone pushing string, and tonal pushing string in blues, etc.
Structural features
An electric guitar is regionally composed of a head, neck, and body (a few electric guitars have a headless design, in which case tuning requires a separate device).
All the parts of the electric guitar includes: wooden structure (the rim, the neck, neck), metal pieces, the tuning knob, adjust the steel bridge, the neck and crank, neck, etc.), electrical components (pick-up, knob, selector switch, 6.35 mm interface circuit and the electronic components, etc.), strings, and other auxiliary equipment.
The strings
Electric guitars are generally considered to have six strings, with a high string (the thinest) considered a 1 and a low string (the thickest) considered a 6. The pitch of an electric guitar string is determined by three factors of vibration: effective string length, tension on the string, and material.